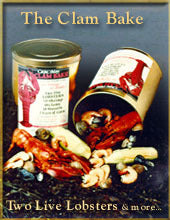 If you would like to send someone a truly unique gift, consider the Lobster House's Cape May Clambake. Filled with succulent fresh seafood, the Clambake is shipped in the can it cooks in on their stove top! 
Each Clambake includes: Two Live Lobsters, 18 Shrimp, 18 Clams, 18 Mussels. Serves 2 people.
All orders for clambakes must be placed by 10am EST for next day delivery. We recommend someone be available to accept delivery of overnight shipments. There are no Saturday, Sunday or Monday deliveries. 
Ordering multiple clambakes: To order more than one clambake, please place separate orders. If you would like multiple clambakes shipped to the same address, please call us during our business hours at 609-884-8296 from 9 a.m. until 4 p.m. ET to order. 
Related Products
---